Free Verified Seller Badge Available
We recommend all our sellers get verified. This helps buyers know you are real and will improve the sale of your nudes, videos and worn panties & dirty knickers.
To get verified is really easy, once your page is up and running, just send us a fansign, with the words SlipperyBean Seller or SlipperyBean Girl or SlipperyBean Guy hand written somewhere on your body. 
We recommend your hand or chest as these are easier to do, oh and your face must be visible. You can find out more about creating a fansign here..
You do not need to add the picture to your page, it will be kept private and just be used to verify you are a genuine seller. We will only make it public, if you ask us to.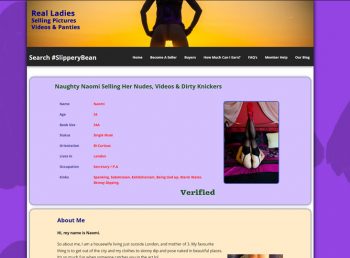 Join #SlipperyBean to sell everything from sexy pictures, naughty nudes, sextapes and worn panties & dirty knickers, right now.