| | |
| --- | --- |
| Name | BlondieUK |
| Age | 23 |
| Boob Size | 32D |
| Status | I Prefer Not To Say |
| Orientation | Anything Goes |
| Lives In | Qormi |
| Occupation | Receptionist |
| Kinks | Spanking, tattoos, making out- with tongue, oral sex |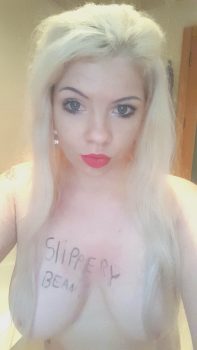 About Me
Hello :) Thank you for visiting my page!
My name is Hannah, AKA blondieUK.
I moved from the UK a year ago and am now living in the beautiful Mediterranean, so I have the luxury of feeling sand in my toes and the beautiful clear sea crashing against my body whenever I please :)
Netflix – who doesn't love it! Nothing beats snuggling up in a blanket and watching movies and crime documentaries hehe
Best sex to me, is when I am held down by my arms and dominated by my lover.
Tattoos are a real turn on. I have 7 on my body, which is yours to explore ;)
I love to chat, so do send me a message. Let me please you.. and myself.
Don't by shy, I don't bite… unless you want me to :P (It is one of my physical turn ons)
Buy My Custom Fansigns
I do accept requests for fansigns. You can ask for a picture in any position and I will submit and write your name (or a short personal message) on paper.
Pictures start from £10
Buy My Nudes
I will provide High Quality individual, or sets of nudes.

Individual sexy lingerie pictures: £5
Individual nude pictures: £10
Set of 5 lingerie pictures: £20 
Set of 3 or 5 nude pictures: £25 for 3, or £40 for 5

I can also take personal photo requests to please your needs and fantasies.
 Buy My Naughty Videos
1 minute sex video (myself with a man) £15
3-5 minute strip tease video- £20
2-3 minutes of masturbation: £25.00
3-5 minutes of masturbation, with special request & fansign: £35.00
If you would like me to use certain toys or lingerie, this must be purchased by you and is not included in my price. We can discuss details for your video via email :)
Buy My Dirty Knickers
I will wear my panties for as long as you like.
Each purchase includes a free emailed fansign photo of me wearing the panties, as well as a personalised note..for your eyes only ;)
Worn panties: £15.00
Panties worn and masturbated in: £20.00
If you would like to see a video of me masturbating in the panties I send you, an additional £10 will be added for a 2 minute video :P
Other Things I Am Selling
Sexy bubble bath photos – set of 4 nude: £30
Sexy bubble bath photo – set of 4 swimwear – £20
Any other requests not listed, send me an email and we can discuss the details :)
How To Buy
For payment, you can send me your email address and information on what goods you are paying for to:
I will then request the money from you using PayPal.
Please note that payment must be made before goods are received x
Any toys or outfits that you request for photos/video are an additional cost. In order for me to purchase said items, you must first upload the funds for these items to my PayPal account, as well as payment for your preferred method of shipment for the item(s). You must also send me the link to the item(s) you would like me to purchase.
I will send you the purchase confirmation email and as soon as these are received, I will begin to complete your request and satisfy your desires.
Any items you have purchased for the picture/video can be shipped to you after your order is completed for an additional £10.00.
If you do not wish to have anything sent to you, I will consider the items as a cheeky gift from you to me <3